Functional Fitness and Ecotherapy
[vc_separator type="small" position="center" up="20″ down="75″]
CHRYSALIS IS A MODERN AND INNOVATIVE CASE MANAGEMENT COMPANY THAT HAS A SUBTLE DIFFERENCE FROM OUR RIVAL COMPANIES, MAKING US QUITE UNIQUE.
WE ACT UPON THE WEALTH OF RECENT SCIENTIFIC RESEARCH SHOWING THE POSITIVE EFFECTS OF BEING OUTDOORS IN NATURAL SURROUNDINGS AND/OR PARTICIPATING IN FUNCTIONAL FITNESS, AFTER SUFFERING A TRAUMATIC BRAIN INJURY (TBI).
RESEARCH STUDIES SHOW THAT PEOPLE WITH A BRAIN INJURY WHO EXERCISE, SHOW FEWER SYMPTOMS OF DEPRESSION, FATIGUE, AND COGNITIVE PROBLEMS (BRAIN LINE.ORG).
[vc_separator type="transparent" up="10″ down="10″][vc_separator type="normal"][vc_separator type="transparent" up="10″ down="10″]
Ecotherapy, also known as 'green therapy' or 'nature based therapy' is gaining the attention of scientists, researchers, medical professionals, and people in search of alleviating symptoms of physical pain, depression, anxiety and substance abuse.
Being in nature has long been associated with being mindful and meditative, but only recently has the scientific community researched the physical and mental health benefits of outdoor immersion in the natural setting.
Contact with nature constitutes a useful health promotion strategy with potential application in the early intervention and continuing treatment of those who have suffered a traumatic brain injury.
Whether an individual is physically mobile or not, spending time outdoors can lead to improvements in both their physical and psychological health. It is well known that the amount of sunlight we get affects serotonin and other mood regulators favourably (Lambert et al, 2002). Studies using FMRI imaging have found that more desirable views (aesthetically pleasing nature views and coastal vistas) were firing up a specific portion of the brain, the anterior portions of the parahippocampal gyrus, rich in opioid receptors. These opioid receptors have connections to the brain cells within the dopamine reward system and, as such, have the potential to trigger feelings of wellness and push forward the motivation required for positive behavioural modification. In addition, after a 30 minute walk in a natural environment it has been found that people are more receptive to psychological intervention.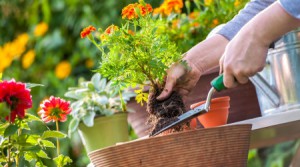 A large number of people with a brain injury are severely affected by the clinical setting, over stimulation and noise. Spending time outdoors whenever possible, even if it is in a hospital garden, has a restorative effect. The sights, sounds and smells of the outdoors can also be used to promote rehabilitation by stimulating the senses, especially when clients are not physically mobile, and/ or may have had damage to areas of the brain controlling the senses.
Many individuals who participate in ecotherapy have significantly lower levels of anger, aggression, feel less pain, sleep better and also see their self-worth increase and neurological symptoms remit. Immersion in nature enables people the time and space to recapture a sense of meaning in their life.
[vc_separator type="transparent" up="5″ down="20″][vc_separator type="transparent" up="5″ down="20″]
THE BENEFITS OF FUNCTIONAL FITNESS
[vc_separator type="transparent" up="10″ down="10″][vc_separator type="normal"][vc_separator type="transparent" up="10″ down="10″]
BELOW ARE SOME OF THE MAJOR BENEFITS THAT A PROGRAM OF BEING OUTDOORS, EXERCISE AND/OR PHYSICAL ACTIVITY CAN BRING:
IMPROVED SLEEP PATTERNS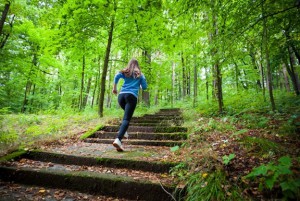 Sleep disturbances occur with increased frequency in patients with a traumatic brain injury (TBI) compared with the general population. Disturbances in sleep have been shown to impair rehabilitation efforts and progression, and are associated with diminished quality of life measures. [Sleep Disorders in Traumatic Brain Injury, Jacob F. Collen, MD, Christopher J. Lettieri, MD Disclosures May 24, 2011]
REDUCED FATIGUE
This is one of the most common problems people have after any brain injury. As many as 70% of survivors of TBI complain of mental fatigue. Fatigue can have a negative effect on mood, physical functioning, attention, concentration, memory and communication. Research has shown that people with TBI who exercise daily have better mental function and alertness. Over time, exercise and being more active helps lessen physical and mental fatigue and builds stamina. (http://www.msktc.org/tbi/factsheets/Fatigue-And-Traumatic-Brain-Injury#.dpuf)
IMPROVED AMOUNTS OF SOCIAL INTERACTION
It is widely reported that individuals can become isolated from pre-accident friends and their self esteem/confidence plummets. That combined with a low tolerance for busy and crowded social events or environments means that meeting new friends or engaging in new activities becomes a real struggle. New activities or programs of exercise can be a way of introducing a different environment with like-minded people, whereby social interaction is mandatory, but crowds are not likely to be encountered.
IMPROVED MUSCLE STRENGTH, JOINT STRUCTURE, AND JOINT FUNCTION
Many individuals have suffered from a range of physical injuries besides the brain injury, whereby functional fitness alongside physiotherapy becomes part of a rehabilitation package in order to strengthen weakened muscles and to improve the range of motion/flexibility at joints that may have been damaged.
A COUNTER TO STRESS, ANXIETY AND DEPRESSION
High levels of endorphins are produced during activity, thus preventing depression and diverting stress and in addition, beneficial alterations in neurotransmitter production take place. These positive feelings increase self-esteem which amongst many brain injured clients is documented as generally low. Furthermore, setting activity or exercise related goals leads to increased levels of intrinsic motivation and increased levels of participation.
There are a number of other benefits that increased exercise/activity can bring, such as; Improved concentration, reaction time, movement time, and speed of information processing. The creation and strengthening of new neural pathways. These skills are crucial cognitive functions, that after a TBI can be impaired.
All our clients are expertly assessed by our experienced Functional Fitness and Lifestyle Consultant and a tailor made plan devised, to be implemented in the clinical setting, at home or by local service providers. The bespoke package will take into account recommendations by the clinical rehabilitation team and of course most importantly, the wishes of the client, in order to provide the highest level of service. Periodic reviews take place where the plan, goals and intensity can be adjusted as necessary.

IN SUMMARY, AT CHRYSALIS WHEREVER POSSIBLE, WE ADVOCATE THAT OUR CLIENTS PARTICIPATE IN OUTDOOR IMMERSION/ACTIVITY/FUNCTIONAL FITNESS.
THIS WILL BE IMPLEMENTED AND CLOSELY MONITORED BY OUR FITNESS AND LIFESTYLE CONSULTANT ALONGSIDE THE NECESSARY CLINICAL INTERVENTIONS, TO AID THE REHABILITATION PROCESS.
WHETHER THE ACTIVITY IS LISTENING TO MUSIC OUTDOORS, KAYAKING, RUNNING, CROSSFIT, WHEELCHAIR AEROBICS, FUNCTIONAL FITNESS, WEIGHT TRAINING, GARDENING, OR SEATED YOGA. ACTIVITY IS A BENEFICIAL WAY TO DEVOTE TIME, FORM GOALS TO AID WITH MOTIVATION AND COMMITMENT, RAISE SELF ESTEEM AND BUILD NEURAL PATHWAYS.
We have close alliances with various health service providers, swimming pools, clubs local fitness providers, associations, and personal training in order to satisfy the specific needs of each and every one of our clients.